Tomorrow marks the release of one of the most personal projects I've ever completed, so I thought I'd go ahead and give y'all a free sample. 🙂 It will be taken down when the book goes live, since you will be able to use the Kindle preview pages.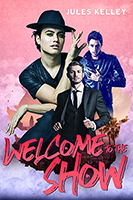 Rockstar Keith and actor Adam have the kind of relationship that keeps tabloids in business: Passionate and dramatic. They've mostly managed to keep their taste for threesomes a secret, though…until they meet Sebastian, a budding journalist who fits perfectly between them. Navigating their careers and a long-term threeway relationship in the public eye of 2012 is playing with fire—and if the paparazzi doesn't destroy them, their inner demons just might.
Note: This high-heat romance title was previously released as LoveGames by M Jules Aedin in 2012. This edition has been rewritten with mostly new content, including a brand new ending.
Content Advisory: Explicit sex, references to drug and alcohol use, fleeting references to negative parental relationships, "Daddy" roleplay, mild D/s elements, one instance of a character not hearing/understanding when their sexual partner asks to stop (toward the end), main character with undiagnosed/untreated mental illness
Buy Link: $3.99 on Amazon (or free on Kindle Unlimited)
Download PDF of first chapter – No longer available for download